Royal Primary School Class of 1953 - "Floreat"                 Royal College Group of '59 - "Disce aut Disce de"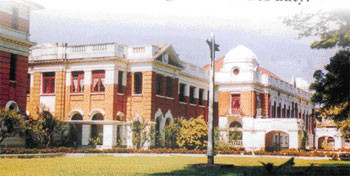 From RPS to RC
Royal Primary School 1953 - 1958
It was the year 1953. Most of us were just five years young as we walked into Class 1C at Royal Primary School that cool January morning. The English medium class was greeted by Ms E.B. Croning, stern and smiling, trying hard to accommodate all her students into their correct places in the little wooden colored chairs that were placed neatly around rectangular shaped colored tables. Parents and Guardians were all crowded at the door seeing that their children were being handed over. Many cries of anguish and fear accompanied by wailing and tears permeated the morning air.
It was the first day at RPS for the Class of 1953. What a wonderful beginning to a life of learning, books, and playing the game. May it flourish (Floreat) was the motto.
Life was fun as we moved on to the next year, 1954, at 2C with Ms Dorothy Perera, the next in 1955, 3C with Ms Dissanayake (Nanayakkara circa 1957), then 1956 4C with Mr V. Pingamage (Pinka), 1957 5C with Mr ABC David (affectionately known as Apple Beetroot Carrot),and finally 6C in 1958 with Mr J.E de Silva (Jadi). Other teachers who had a significant impact in our lives through these six years of primary education were, Major AF de Saa Bandaranaike (Banda, the then Principal), Mr H.D. Sugathapala (Sugar, who took over later as Principal), Mr H.W. Jayawardena (Jaye), Mr Piyasena (Vathey), Ms Nicholas of the Music & Singing room, Carolis the bell ringer, and, most of all, the mouth-watering vendors, Kadaley and Bella at the gates selling their mango, gram, bubble gum and other niceties of a boy's life. Almost forgot to mention the Alerics Ice Cream man with his variety of flavored popsicles. 
Royal College 1959 - 1966
January 1959 saw an exodus of a band of young men, from the playful wonders of a maypole swinging primary education, into the serious depths of secondary school, Royal-Thomians and Bradby Shields. A majority of the group came from Royal Primary School while a select band of exemplary men came from a mixed bag of many other Colombo and outstation schools. Thus a complete change in life for the boys of the Class of 1953 at Royal was taking effect.
The minds of the young men had a mixed bag of feelings. It was more like graduating from wearing shorts to long trousers, feeling the majesty of College in their hearts and minds, and most of all, being pleased to have crossed that hurdle that many crave to achieve.
A whole new life awaited us and we surely looked forward, in great amazement,  to a brave new world of many wonderful days to come. The sadness of having to part with some of those who could not make it was mixed with the joy of new faces, friendships, learning, and a new lease of life within the hallowed corridors of honor and pride to a place where our fathers had learned the ways before us, learned of books and learned of men and learned to play the game.
The mighty victory roar of "R*O*Y*A*L - Royal!" would ring on forever in our warm hearts and minds.
We were so many in Form I that the classes were divided into six Groups, 1A to 1F. Some of the class teachers as we remember were, Capt. (later Brevet Lt-Col. & JP)  M.K.J. Cantlay e.d. (Canto, 1A), Mr V. Sivalingam (Siva 2D), Mr M.M. Alavi, Mr R.I.T. Alles (Rita), Mr Abdeen, Mr Justin de Silva (Lincoln, 1F) and of course the Headmaster of the Junior School, Major C.P. de A Abeysinghe (CowPox). The principal of the Senior School at that time was Mr Dudley K.G. de Silva, a man of great personality, stature, discipline, and well earned respect, whose dedication and commitment to Royal, and to us, is something that we will never forget It would be failing on our part, at this juncture, not to mention two significant personalities of that era, Mr Bogoda Premaratne (Vakuts) (Vice Principal) and Mr E.C. Gunasekara (Kataya) whose impact on all our lives is something we cannot equate materially. No doubt all the other members of the teaching and administrative staff played an important role in our lives at some point or another during those wonderful years at Royal.
Other names of those wonderful mentors who nurtured us through our academics at RC, are E. St. Elmo de Bruin, Viji Weerasinghe (now chain-smoking and ably manning the Royal College Old Boys' Office); Ratnayake (Ghandi), V. Arasaratnam, the math Guru; S. Gulasekaram (Thosai); Hari C. Arulanandan (Cut-throat), drinking tea in a beaker; MT Thambapillai (Thamba); Muttiah; Rajendran; Shanmugaratnam; V. Menon (Pope); Weerasingham (Blackie); Sabaratnam (Half-soda); (Kota) Silva; Attanayake; Sawaad; Rupesinghe (Ruperty); EFC Perera; Mrs Samarasekera (Madam); Teddy bear of the Metal Work shop fame (can't remember his name); (Kos) Dias; J. Henry de Saram; R. Ratnathickam (Rat); A. Canagaratne; Thavaneetharajah (Thavam);
"We will learn of Books and Men and learn to play the Game!"
---